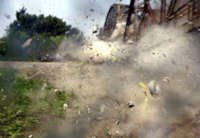 Doesn't mention anything about the guy being an idiot and leaving his stuff so close, though… 😛 And back on August 1st, we did report that flash memory is sturdier than you think. Sandisk's site has high resolution shots of the last pictures taken by the camera.
—
But to Frazier's amazement, there on the ground, inches from the shattered remnants of his new pro-level camera, was his SanDisk 256MB CompactFlash card, which he had owned since 1999. Surprisingly, except for a few nicks, it was unscathed, even though it had been blasted from the camera chamber. And when he inserted the card into a PC reader, up popped an image that has astonished everyone who's seen it.
"I had no idea that there would be such an impact on the cameras, or I wouldn't have put them there,� he said. Frazier figures that the blast ruined about $15,000 worth of equipment. But he's philosophical about the loss. "The fact that my SanDisk card survived all of this is just amazing. And that it captured a wild shot of flying bridge debris before my camera died is certainly a testament to its durability,� he said.
http://news.designtechnica.com/article5140.html
http://www.sandisk.com/pressrelease/20040823.htm
Notice
: link_pages is
deprecated
since version 2.1.0! Use wp_link_pages() instead. in
/home/fasteddie/public_html/wp-includes/functions.php
on line
3884