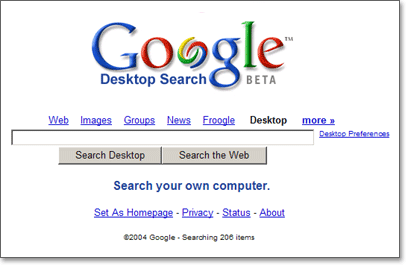 Nice find Jimmy! The long anticipated Google Desktop Search program is here, I'm just about to download it and give it a run through. It needs a whopping 1GB of free disk space for it to even install. Guess I gotta unload some MP3s first, and also, it only runs on Windows XP or Windows 2000 SP3 or above…
Apparently, no Gmail support in the search right now, the search is instantaneous just like Google. Search Engine Lowdown has a good thorough review of it.
—
MOUNTAIN VIEW, Calif. – Online search engine leader Google Inc. is setting its sights on the computer desktop with a new software program that promises to scour through the clutter of documents, e-mails, instant messages and other files stored on hard drives.
The free desktop search program, unveiled Thursday at http://desktop.google.com, marks Google's latest attempt to become even more indispensable to the millions of people who entrust the company to find virtually anything on the Web.
Notice
: link_pages is
deprecated
since version 2.1.0! Use wp_link_pages() instead. in
/home/fasteddie/public_html/wp-includes/functions.php
on line
3884