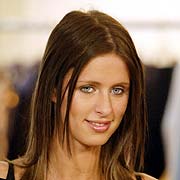 Aww, don't tell me we were right! Well, to her credit, Nicky Hilton's marriage lasted longer than Britney's first 55 hour one. Wait, so will Britney's second one last longer than Nicky's? Gee, ya think 21 was a bit young? So, now about that pre-nup…
—
Nicky Hilton is reportedly annulling her marriage.
The hotel heiress, who is the younger sister of reality TV star Paris, is "working on an annulment" from husband Todd Meister, as the marriage is "beyond solid", according to America's Us Weekly magazine. Friends also say, at 21, Nicky feels she is too young to be a wife.
http://www.teenhollywood.com/d.asp?r=81492&cat=1055
Notice
: link_pages is
deprecated
since version 2.1.0! Use wp_link_pages() instead. in
/home/fasteddie/public_html/wp-includes/functions.php
on line
3884