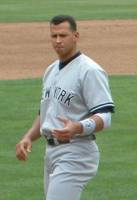 Maybe it was when Alex Rodriguez decided not to go to the Boston Red Sox, but instead go to the New York Yankees. Maybe it was when he decided to don the number 13, which for most superstituous folks, is unlucky. But if the Yankees lose Game 7, perhaps it's due to the curse of A-Rod. Much like the often mentioned Curse of the Bambino, where the Red Sox sold George Herman "Babe" Ruth to the Yankees for $125k and a $300k loan in 1920. The Yanks went on to win their first championship just three years later, and many, many more after that, while the Red Sox have never won a championship since they sold the Babe.
So Alex Rodriguez shunned the Red Sox before the 2004 baseball season, instead going to the most hated team in baseball, the Yankees. Of course the Yankees are good, but their payroll is a zillion times higher than any other team. A real fair playing field. He had to give up his position of shortstop as well, going to third base, as Derek Jeter refused to move anywhere. So A-Rod produces decent numbers during his first season in the Bronx, batting .286, 36 HR, and 106 RBI, but it wasn't exactly jawdropping to Yankees fans, especially considering his $252 million contract, the richest in baseball. A-Rod has never been on a championship team, from the Mariners to the Rangers. So maybe winning is just not in his tarot cards.
Tonight, in Game 6 in the American League Championship Series, A-Rod purposely chops the pitcher's hand while running to first base, trying to avoid the tag. Initially, he was called safe and it led to Derek Jeter scoring, but the umpires actually confered and ruled that A-Rod's swipe was illegal (which replays showed clearly was) and called him out, sending Jeter back to first. See A-Rod whine after he doesn't get his way is what happened after that.
I see it as the beginning of the A-Rod curse. Hey, it gives me a team to root against, seeing as I don't care about any of the teams left in this playoffs.
You're a great role model A-Rod, pulling a Razor Ramon and spitting your gum out and swatting it towards the ump after the inning was over. Fox caught you on tape doing it. Did you forget you were on camera?
So remember, when 70 years down the line the NY Yankees still haven't won a championship, where you heard first about the Curse of A-Rod… 😛 The again, the Yankees could win the World Series this year and a certain lowmazda won't shut up about it for another year.
Notice
: link_pages is
deprecated
since version 2.1.0! Use wp_link_pages() instead. in
/home/fasteddie/public_html/wp-includes/functions.php
on line
3884