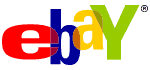 Crazy that a company as big as eBay can nearly double its net profits over the previous year in this economy. But it continues to grow by leaps and bounds, as no competitors have even made a dent in recent years in the auction foray. Still, how about fixing the site so you don't need weekly updates on your site and Paypal's, eBay? Some people are actually up on Friday early morning, wanting to bid and pay for random junk they buy (you know who you are). I'd also like to know what kind of retailers have $1 million in sales per minute, that seems incredibly high, unless you're talking about Dell having a $750 off $1500 deal again.
—
Executives at eBay Inc. apologized to frustrated customers who were frozen out of the online auction giant's payment transaction service, which experienced at least five days of intermittent outages earlier this month. The mea culpas came as eBay reported sizzling net income, nearly doubling from the previous year, as revenue also soared.
Estimates vary widely, but large online retailers may lose anywhere from $1 million per hour to $1 million per minute when Web sites go down. For instance, a 20-minute outage at Seattle-based Amazon.com in November 2000 deleted roughly 20,000 product orders and $500,000 in revenue, according to investment firm Thomas Weisel Partners.
Notice
: link_pages is
deprecated
since version 2.1.0! Use wp_link_pages() instead. in
/home/fasteddie/public_html/wp-includes/functions.php
on line
3884