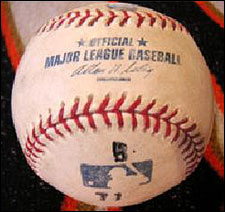 Ya know, I don't recall seeing any stringent pre-bidder authentication by Overstock.com in the auction for the Barry Bonds ball at all. $800k seems way overpriced, as it's not a record breaking ball at all, but then again there are rich weirdos out there, no? I still say it's bogus and that the bid was a fake bid, something News.com doesn't address at all. Overstock being new to this online auction thingy, I wouldn't be surprised if they made a goof, and if they did, it'll be an embarassingly big one… The dude shoulda left it up to Sotheby's or something, then again he did get the best deal at Overstock, I'm sure.
—
Major League Baseball may hand out Gold Glove awards to the league's finest fielders each season, but the $804,129 that fan Steve Williams landed in an online auction of Barry Bonds' 700th home run ball still looks pretty lustrous in comparison.
Williams' online auction of the leather orb on Overstock.com ended Wednesday, after 242 bids were made on the historical piece of playing equipment over the last 10 days. The winning bidder, an individual using the screen name "bomasterj," must now submit his or her payment to an escrow account controlled by Williams' lawyers, who will deliver the ball to the winning bidder. In hitting the blast, Bonds joined baseball legends Babe Ruth and Hank Aaron as the only players in Major League Baseball to ever crest the 700 homer plateau.
Notice
: link_pages is
deprecated
since version 2.1.0! Use wp_link_pages() instead. in
/home/fasteddie/public_html/wp-includes/functions.php
on line
3884