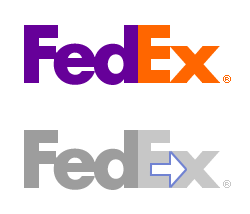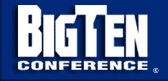 Yes, I'm so easily amused. I see the FedEx logo probably everyday, but I've never seen the subliminal arrow until today, and of course a website pointed it out for me. Also above is the Big Ten logo, which added an 11th team a few years back, thus you can see a subliminal 11 in their logo.
Good interview with the FedEx logo creator guy at TheSneeze.
—
Why choose to keep the arrow so subtle? It seems to show remarkable restraint. Weren't you or the people at FedEx ever tempted to make it more obvious with an outline or a different color?
A good question and one that I am frequently asked. An arrow, in and of itself, is one of the most mundane graphic devices in visual communications. Truly, there is nothing unique or particularly strategic (marketing-wise) in using an arrow as a brand identifier. Early on, before the brand rollout in mid-1994, FedEx's public relations agency was preparing to emphasize the arrow as a secondary graphic to underscore the "speed/precision� positioning. They proposed to leverage this in their FedEx communications. Landor put its foot down and said, "No way.�
http://www.thesneeze.com/mt-archives/000273.php
Notice
: link_pages is
deprecated
since version 2.1.0! Use wp_link_pages() instead. in
/home/fasteddie/public_html/wp-includes/functions.php
on line
3884