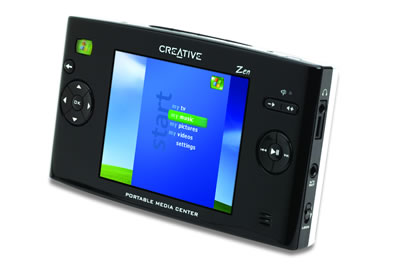 So you buy a $500 Personal Video Player, and you get home all excited to play with it and watch stuff, right? BZZT. Not exactly. Besides having to install apps from the included CD, you have to go online and download MORE Windows Media components, which according to Wired, can take 30 minutes, even on broadband. What kind of idiotic thinking is that? Anything you need to use the PVP with your PC should be included on your CD! And that folks, is why Microsoft is no Apple. I remember opening my iPod mini, installing iTunes on my PC, and dragging over MP3s, and voila, I could listen to stuff on my iPod mini. Really though, what kind of product manager thinks up this stuff?
—
The latest portable media players strive to be the Swiss Army knives of digital content, giving you mobile access to your entire video and audio libraries. The Creative Zen Portable Media Center and the Datexx Pavio take very different paths to (almost) reach digital nirvana.
As with many other Windows-based devices, the PC controls the content of Creative's Zen, which uses Microsoft's just-released Portable Media Center and Windows Media Player 10 software. Before you connect the player, you have to install applications from the included CD and download the latest Windows Media components, a process that takes more than 30 minutes on a broadband connection and considerably longer using (gulp) dialup.
http://www.wired.com/news/gizmos/0,1452,65720,00.html
Notice
: link_pages is
deprecated
since version 2.1.0! Use wp_link_pages() instead. in
/home/fasteddie/public_html/wp-includes/functions.php
on line
3884