So some guy just got up on the stage while the Italian Olympic chairman was talking during the Closing Ceremonies. He was wearing a black GoldenPalace.com T-shirt, though the camera angle sort of obscured it. Great security over there in Turin, eh? Just how much does GP pay for such publicity? It's gotta be worth a few million in advertising as all the European countries should be watching this live. Too bad no one told him the camera angle before he got up on stage. And will some idiot dare to do this in China and risk their life?
Thanks CBC for the live feed, I wonder how NBC will censor this bit, as I'm sure they wouldn't be too pleased with free advertising for an online casino.
Update: Guess NBC didn't censor it after all. The NBC camera's view was even better and showed even more exposure for GoldenPalace. And in high definition, to boot! BTW, though as proud as I am to be called a Canadian, I'm in Seattle, yes, the land of rain… (and yes, it's raining outside right now), we get the CBC feeds on cable here.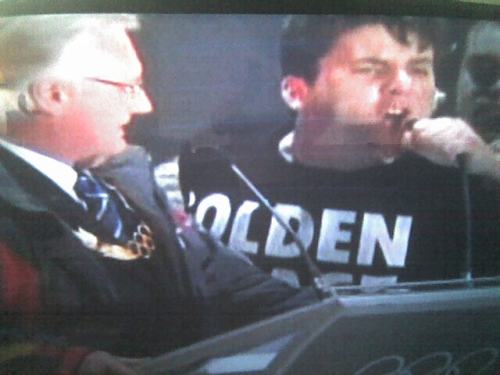 Notice
: link_pages is
deprecated
since version 2.1.0! Use wp_link_pages() instead. in
/home/fasteddie/public_html/wp-includes/functions.php
on line
3884