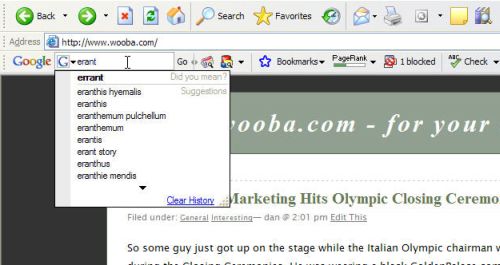 Just noticed a quiet little update to Google Toolbar 4 for IE today, as I didn't notice any changes until just a few minutes ago. Some of the new features are suggestions, if you didn't know how to spell "errant", Google will suggest it for you. It can also shows your Google Toolbar search history regarding that term. Pretty neat! You can also send a text message with the "Send To" button. I don't know if the Bookmarks feature is new or not, but if you have a Google account, you can access your personal bookmarks with any computer that has the Google Toolbar installed. The new toolbar also allows you to quickly add Custom Buttons for popular sites.
Sorry, Firefox users, Google hasn't updated their Firefox Toolbar… yet!
Enhanced Search Box
As you type a search query into the new Toolbar's search box, you'll see a list of useful suggestions based on popular Google searches, spelling corrections and your own Toolbar search history and bookmarks. You can also click the 'G' icon in the search box to search different Google sites, the current site, or sites for which you've installed custom search buttons.
Send To
You can use your Google Toolbar to share web pages via email, text message (SMS), or blog. To share an entire page, select from the Toolbar's "Send To" menu; to share an excerpt, simply select the section of the page you want to share before clicking "Send To."
Custom Buttons
You can add buttons to your Toolbar that will let you visit and search your favorite websites and keep up with interesting feeds. Our Button Gallery offers a selection of ready-made buttons for popular sites, and you can make your own buttons in seconds by right-clicking within the search box on any site and selecting "Generate Custom Search…"
http://www.google.com/support/toolbar/bin/static.py?page=features.html&v=4&hl=en
Notice
: link_pages is
deprecated
since version 2.1.0! Use wp_link_pages() instead. in
/home/fasteddie/public_html/wp-includes/functions.php
on line
3884