Aww, say it ain't so! Maybe Nick should just tattoo the name of every girl he's been with on his arm. Maybe it'll help him keep a running tally.
And just where are the bruised and beat up Paris photos? Ooh, front page of the NY Post. Nice!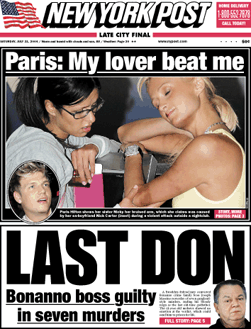 —
NEW YORK July 31, 2004 — Paris Hilton and Nick Carter have permanent reminders of each other after getting tattoos together three weeks before their July 22 breakup.
Backstreet Boy Nick Carter, 24, got "Paris" tattooed on his wrist, People magazine reports. Carter says he's has no regrets about the untimely ink "because I love her. She'll have a place in my heart, always."
On Thursday, Hilton was photographed with what appeared to be cuts and bruises on her arm and face as she passed through the Los Angeles airport. Hilton spokeswoman Tracy Schaeffer would not comment.
http://abcnews.go.com/wire/Entertainment/ap20040731_871.html
Notice
: link_pages is
deprecated
since version 2.1.0! Use wp_link_pages() instead. in
/home/fasteddie/public_html/wp-includes/functions.php
on line
3884