Doritos Rollitos Review
By: Daniel Wu
january 7, 2004
Price: $1.99 for 7.75 oz bag (purchased at local QFC)
What's this? Something new? Well, I'll be, it's new Rollitos from Doritos. What's different about it? Well, it's basically just rolled up Doritos, hence Rollitos. I got the Cooler Ranch! flavor, since that's my favorite Doritos flavor.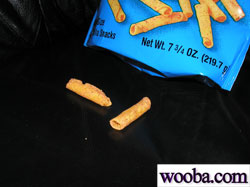 So what do these Rollitos look like? Well, like this. Not too visually pleasing, in my opinion. A little bit smaller than the size of Chee-tos. At first taste, I noticed the chip (roll?) is a little hard. It's probably due to the fact that you are chewing through 2 or 3 pieces of chips (since it's rolled up together). A bit too harsh for my tastes. Second, the flavor does not seem to be present as in normal Cooler Ranch Doritos. Usually, you get quite a bit of flavoring per chip with regular Doritos. However, I found there was not much flavor on any of my Rollitos, even if I tried to 'savor' the Rollito in my mouth and let it melt. This is unfortunate, as I like my flavoring on my flavored chips. If I had gotten a 'plain' flavor, I wouldn't be too upset, but not having enough flavor in my chips is a no-no in my book. Several other taste testers mentioned the same thing about the flavoring.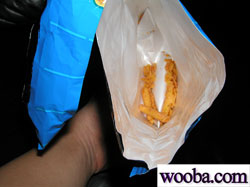 But, at the end, the bag is finished. The Rollitos are definitely sturdier than regular Doritos tortilla chips, as there was not as much breakage as I usually see. It wasn't too satisfying, but it does fill your stomach. Edible, yes, but Rollitos are definitely not going to be in my favorites in terms of snack chips.
The packaging is decent, as I do like the Rollitos logo. I thought that looked pretty neat.
Rating: 6/10
Gripes: Definitely needs more flavoring on each Rollito. More flavoring would also make me forget about the hardness of each bite. Would be a 8 or a 9 otherwise. :P